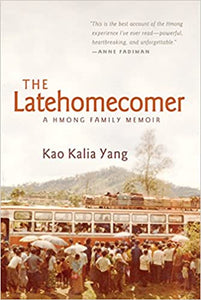 The Latehomecomer: a Hmong Family Memoir by Kao Kalia Yang
"In search of a place to call home, thousands of Hmong families made the journey from the war-torn jungles of Laos to the overcrowded refugee camps of Thailand and onward to America. But lacking a written language of their own, the Hmong experience has been primarily recorded by others. Driven to tell her family's story after her grandmother's death,
The Latehomecomer
is Kao Kalia Yang's tribute to the remarkable woman whose spirit held them all together. It is also an eloquent, firsthand account of a people who have worked hard to make their voices heard.
Beginning in the 1970s, as the Hmong were being massacred for their collaboration with the United States during the Vietnam War, Yang recounts the harrowing story of her family's captivity, the daring rescue undertaken by her father and uncles, and their narrow escape into Thailand where Yang was born in the Ban Vinai Refugee Camp.
When she was six years old, Yang's family immigrated to America, and she evocatively captures the challenges of adapting to a new place and a new language. Through her words, the dreams, wisdom, and traditions passed down from her grandmother and shared by an entire community have finally found a voice."
Softcover, minor wear, light lamination peeling from cover, discoloration inside front cover, binding tight, pages bright, a nice copy