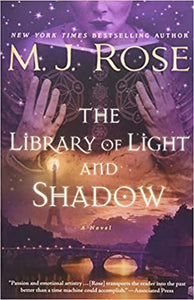 The Library of Light and Shadow by M.J. Rose
"In this riveting and richly drawn novel from "one of the master storytellers of historical fiction" (New York Times bestselling author Beatriz Williams), a talented young artist flees New York for the South of France after one of her scandalous drawings reveals a dark secret—and triggers a terribly tragedy.

In the wake of the Great War, the glamour of 1925 Manhattan shines like a beacon for high society, desperate to keep their gaze firmly fixed to the future. But Delphine Duplessi sees more than most. At a time in her career when she could easily be unknown and penniless, she has gained notoriety for her stunning shadow portraits that frequently expose her subjects' most scandalous secrets.

Then, on a snowy night in a penthouse high above Fifth Avenue, Delphine's mystical talent leads to a tragedy between two brothers. Devastated and disconsolate, Delphine renounces her gift and returns to her old life in the South of France where Picasso, Matisse, and the Fitzgeralds are living. There, Delphine is thrust into recapturing the past. First by her charismatic twin brother and business manager, Sebastian, who attempts to cajole her back into work and into codependence, then by the world famous opera singer Emma Calvé, who is obsessed with the writings of the fourteenth-century alchemist Nicolas Flamel. And finally by her ex-lover Mathieu, who is determined to lure her back into his arms, unaware of the danger that led Delphine to flee him five years before.

Trapped in an ancient chateau where hidden knowledge lurks in the shadows, Delphine questions everything and everyone she loves the most—her art, her magick, her family, and Mathieu—in an effort to see them as the gifts they are. Only there can she shed her fear of loving and living with her eyes open."
Softcover, minor wear, small remainder mark on bottom text block, light crease on back cover, binding tight, pages bright, a very nice copy!