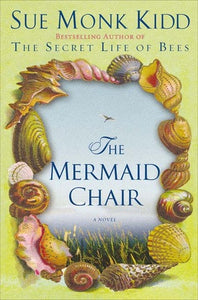 The Mermaid Chair by Sue Monk Kidd
"Inside the abbey of a Benedictine monastery on tiny Egret Island, just off the coast of South Carolina, resides a beautiful and mysterious chair ornately carved with mermaids and dedicated to a saint who, legend claims, was a mermaid before her conversion. Jessie Sullivan's conventional life has been "molded to the smallest space possible." So when she is called home to cope with her mother's startling and enigmatic act of violence, Jessie finds herself relieved to be apart from her husband, Hugh. Jessie loves Hugh, but on Egret Island—amid the gorgeous marshlands and tidal creeks—she becomes drawn to Brother Thomas, a monk who is mere months from taking his final vows. What transpires will unlock the roots of her mother's tormented past, but most of all, as Jessie grapples with the tension of desire and the struggle to deny it, she will find a freedom that feels overwhelmingly right."
Hardcover in dust jacket, little wear, binding tight, pages bright, a very nice copy!