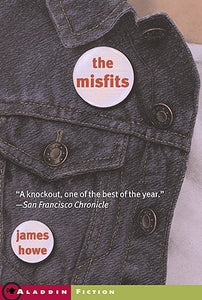 The Misfits by James Howe
"Kids who get called the worst names oftentimes find each other. That's how it was with us, Skeezie Tookis, Addie Carle, Joe Bunch, and me.

Bobby is the quiet one, the chubby one, the kid who just wants to get through seventh grade unseen and unscathed. He hates the names he's called, but he figures there's nothing he can do about it—until Addie comes up with a plan. Will her campaign to end name-calling at Paintbrush Falls Middle School change anything? One thing is for sure: it will change Bobby forever."

Softcover, very worn