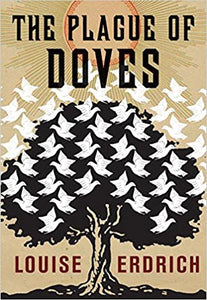 The Plague of Doves by Louise Erdrich
"Though generations have passed, the town of Pluto continues to be haunted by the murder of a farm family. Evelina Harp—part Ojibwe, part white—is an ambitious young girl whose grandfather, a repository of family and tribal history, harbors knowledge of the violent past. And Judge Antone Bazil Coutts, who bears witness, understands the weight of historical injustice better than anyone. Through the distinct and winning voices of three unforgettable narrators, the collective stories of two interwoven communities ultimately come together to reveal a final wrenching truth.
Bestselling author Louise Erdrich delves into the fraught waters of historical injustice and the impact of secrets kept too long."
Hardcover in dust jacket, minor wear, front free endpaper creased, sticker remnant inside front cover, binding tight, pages bright, a nice copy!