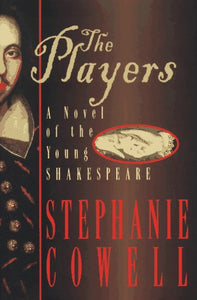 The Players: A Novel of the Young Shakespeare by Stephanie Cowell
"In 1564 a boy was born to a middle-class family in the little town of Stratford. Thirty-four years later he would write Hamlet.  In between was his both troubled and carefree childhood, his disastrous forced marriage and his early wild years in London poverty with the brilliant young writers and actors who were forming the Elizabethan Theater. But even as he was rising into his first successes as a writer, he fell into a passionate bisexual love affair with his patron and an Italian girl musician that threatened to bring down both his work and his life."
Hardcover in dust jacket, previous owner stamp inside front free endpaper, inscribed to previous own BY AUTHOR, binding tight, pages bright, a very nice copy!