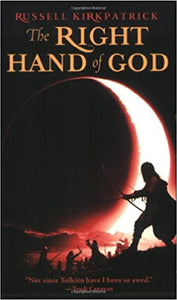 The Right Hand of God by Russell Kirkpatrick
"The company has been scattered far and wide in its mission to prepare Faltha for war - now the armies of the Destroyer are near and invasion is imminent.

Leith has returned to the city of Instruere. Bearing with him the legendary JugomArk, thousands flock to him to fight for Faltha in the coming battle. But Leith struggles to accept their faith in him, and his role as custodian of this sacred artifact.

As the land darkens under the shadow of impending battle, the company must strive against treachery and self-doubt - for a great evil approaches."
Mass market, a nice copy!