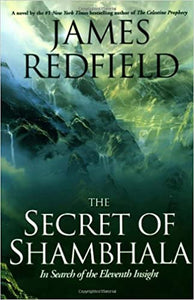 The Secret of Shambhala: In Search of the Eleventh Insight by James Redfield
"Continuing the exciting adventures of The Celestine Prophecy and The Tenth Insight, this new book takes you to the snow-covered Himalayas, in search of the legendary Tibetan utopia of Shambhala. As you follow a child's instructions, are pursued by hostile Chinese agents, and look for a lost friend, you will experience a new awareness of synchronicity...and discover, hidden among the world's highest mountains, the secrets that affect all humanity. For Shambhala not only actually exists, but is destined to be found in our time-and will reveal powerful truths that can transform the world."
Hardcover in dust jacket, minor wear, remainder mark on top text block, sticker scrape on back cover, binding tight, pages bright, a very nice copy!