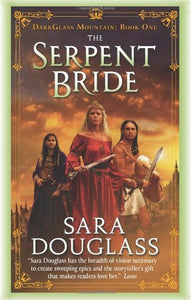 The Serpent Bride by Sara Douglass
"Rescued from unspeakable horror, Ishbel Brunelle has devoted her life to a Serpent cult that reads the future in the entrails of its human sacrifices. But the Serpent has larger plans for Ishbel than merely being archpriestess, plans that call for a dangerous royal marriage balancing on the edge between treachery and devotion, and an eerie, eldritch warning: Prepare for the Lord of Elcho Falling . . .
And there are other dangers. For while Tencendor is gone, even its fall cannot destroy the Icarii. As the Tyrant of Isembaard reaches for glory, both StarDrifter SunSoar and his son, Axis, are pulled into the deadly dance of intrigue and sorcery. The DarkGlass Mountain—once known as the Threshold—is waiting, and as the Dark God Kanubai rises from his prison in exile, no one will escape unscathed."
Mass market, a nice copy!