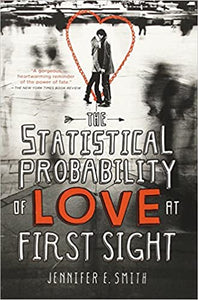 The Statistical Probability of Love at First Sight by Jennifer E Smith
"Today should be one of the worst days of seventeen-year-old Hadley Sullivan's life. Having just missed her flight, she's stuck at JFK airport and late to her father's second wedding, which is taking place in London and involves a soon-to-be stepmother Hadley's never even met. Then she meets the perfect boy in the airport's cramped waiting area. His name is Oliver, he's British, and he's sitting in her row.

A long night on the plane passes in the blink of an eye, and Hadley and Oliver lose track of each other in the airport chaos upon arrival. Can fate intervene to bring them together once more?"
Softcover, minor wear, previous owner name on half title page, binding tight, pages bright, a nice copy!