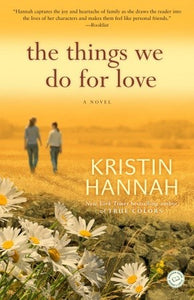 The Things We Do for Love by Kristin Hannah
"Years of trying unsuccessfully to conceive a child have broken more than Angie DeSaria's heart. Following a painful divorce, she moves back to her small Pacific Northwest hometown and takes over management of her family's restaurant. In West End, where life rises and falls like the tides, Angie's fortunes will drastically change yet again when she meets and befriends a troubled young woman.

Angie hires Lauren Ribido because she sees something special in the seventeen-year-old. They quickly form a deep bond, and when Lauren is abandoned by her mother, Angie offers the girl a place to stay. But nothing could have prepared Angie for the far-reaching repercussions of this act of kindness. Together, these two women—one who longs for a child and the other who longs for a mother's love—will be tested in ways that neither could have imagined."
Softcover, little to no wear, binding tight, pages bright, a very nice copy!