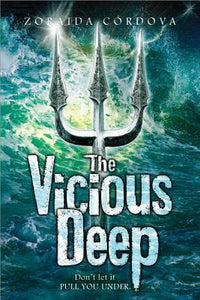 The Vicious Deep by Zoraida Cordova
"One crashing wave and Tristan Hart was gone for three days. Sucked out to sea in a tidal wave and spit back ashore at Coney Island with no memory of what happened.  Now his dreams are haunted by a terrifying silver mermaid with razor-sharp teeth.
His best friend Layla is convinced something is wrong. But how can he explain he can sense emotions like never before? How can he explain he's the heir to a kingdom he never knew existed? That he's suddenly a pawn in a battle as ancient as the gods?
Something happened to him in those three days. He was claimed by the sea...and now it wants him back."
Softcover, minor wear, binding tight, pages bright, a very nice copy!