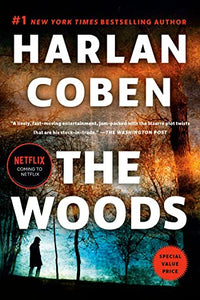 The Woods by Harlan Coben
"Paul Copeland, a New Jersey county prosecutor, is still grieving the loss of his sister from twenty years ago—the night she walked into the woods, never to be seen again. But now, a homicide victim is found with evidence linking him to the disappearance. The victim could be the boy who vanished along with Paul's sister. And, as hope rises that his sister could still be alive, dangerous secrets from his family's past threaten to tear apart everything Paul has been trying to hold together...."
Softcover, minor wear, binding tight, pages bright, a very nice copy!