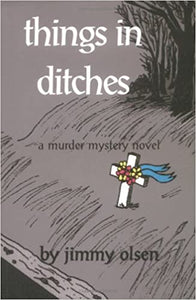 Things in Ditches by Jimmy Olsen
"
A murder mystery novel. The story of Phillip "Dutch" Cleland, a man with a hidden past and a future about to explode in his face. A seemingly average man whose love for two women drives him to such extremes that deception, even murder and suicide are not longer unthinkable.
When a lovely corpse is discovered near Dutch's home town, the nearby ditches begin to yield a harvest of secrets, none of them comforting for Dutch. Soon he is forced to flee for his life, before his past and the police slip a noose around his neck.
Things In Ditches is peopled with small town characters that are so humorous and eccentric, their oddball antics enliven every paragraph and page. A reader can't help but be reeled in by the strange citizens of Willow River, until soon discovering they're really not so different from all of us and Dutch's story is the oldest story on earth; good and evil, betrayal and laughter. And finally, the power of love and friendship, forging one man's determination to overcome all odds."
Softcover, minor wear, corner of cover clipped, light smudging to page edges, binding tight, pages bright, a nice copy.