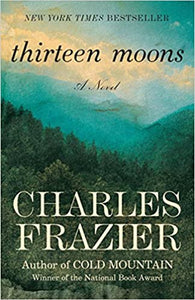 Thirteen Moons by Charles Frazier
"At the age of twelve, an orphan named Will Cooper is given a horse, a key, and a map and is sent on a journey through the uncharted wilderness of the Cherokee Nation. Will is a bound boy, obliged to run a remote Indian trading post. As he fulfills his lonesome duty, Will finds a father in Bear, a Cherokee chief, and is adopted by him and his people, developing relationships that ultimately forge Will's character. All the while, his love of Claire, the enigmatic and captivating charge of volatile and powerful Featherstone, will forever rule Will's heart. In a voice filled with both humor and yearning, Will tells of a lifelong search for home, the hunger for fortune and adventure, the rebuilding of a trampled culture, and above all an enduring pursuit of passion."
Softcover, minor wear, light cover crease, binding tight, pages bright, a very nice copy!