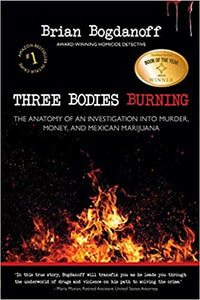 Three Bodies Burning by Brian Bogdanoff
"A haunting triple murder... the inside story of the investigation. When two worlds collide—the illegal transportation of tons of Mexican cartel marijuana to inner city gang members in a Midwestern city's "hood"—three bodies end up burning, caught in a web of greed as a major international drug deal goes very bad. The chilling trail of evidence from a remote wooded area where three bodies are set on fire leads homicide detectives across the country chasing down witnesses and conspirators in a two-year search for cold-blooded killers. This case has it all: murder, piles of cash stashed in the most unlikely of places, a blood-soaked crime scene, the remote dump site for bodies, luxury cars, flashy jewelry, and hundreds of pounds of illegal dope. An unbelievable break takes detectives down the rabbit hole where CSI meets Law & Order and where good old gumshoeing and meticulous forensic procedures bring down a mega-million-dollar drug conspiracy and lock up the bad guys for life. Follow the case through the eyes of the gritty homicide/narcotics detective. A handbook for the amateur criminologist, this book is for true crime fans, prosecutors and defense attorneys, and cops and robbers. Warning: This book contains graphic crime scene photos and adult language."
Softcover, minor wear, inscribed to previous owner by author, publishing error first few pages (pages folded before cut), binding tight, pages bright, a very nice copy!