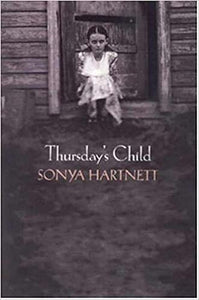 Thursday's Child by Sonya Hartnett
"Harper Flute believes that her younger brother Tin, with his uncanny ability to dig, was born to burrow. While their family struggles to survive in a desolate landscape during the Great Depression, the silent and elusive little Tin - "born on a Thursday and so fated to his wanderings" - begins to escape underground, tunneling beneath their tiny shanty. As time passes and fate deals the family an especially cruel hand, Harper's parents withdraw emotionally, and her siblings bravely try to fill the void, while Tin becomes a wild thing, leaving them further and further behind.

With exquisite prose, richly drawn characters, and a touch of magical realism, Sonya Hartnett tells a breathtakingly original coming-of-age story through the clear eyes of an observant child. It's a loving and unsentimental portrait of family loyalty in the face of poverty and eartbreak, entwined with a surreal vision of the enigmatic Tin - disappearing into a mysterious labyrinth that reaches unimaginably far, yet remains hauntingly near."
Hardcover in dust jacket, minor wear, previous owner inscription on front free endpaper, binding tight, pages bright, a nice copy!