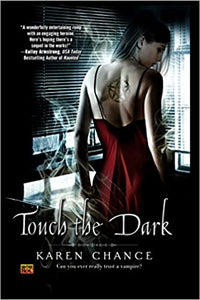 Touch the Dark by Karen Chance
"Cassandra Palmer can see the future and communicate with spirits—talents that make her attractive to the dead and the undead. The ghosts of the dead aren't usually dangerous; they just like to talk…a lot.

The undead are another matter.

Like any sensible girl, Cassie tries to avoid vampires. But when the bloodsucking mafioso she escaped three years ago finds Cassie again with vengeance on his mind, she's forced to turn to the vampire Senate for protection.

The undead senators won't help her for nothing, and Cassie finds herself working with one of their most powerful members, a dangerously seductive master vampire—and the price he demands may be more than Cassie is willing to pay...."
Mass market, a nice copy