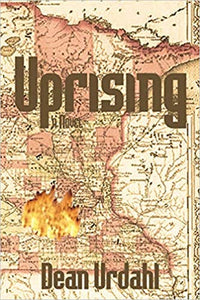 Uprising by Dean Urdahl
""In Uprising, Dean Urdahl has crafted a story about Min­nesota's 'war within a war' in the Minnesota River Valley during the autumn of 1862. His saga is enriched by unfolding . . . on an even broader background beginning with the bloody battle of Shiloh in the spring of 1862 and carrying his main character, Nathan Thomas, from there to Minnesota where he participates in an extraordinary number of adventures during the six-week ethnic earthquake variously known as the Sioux Uprising, the Dakota Conflict, and the Dakota War. In casting Nathan as his central figure and relating him to the two theaters of conflict during the great battles of Second Manassas, Antietam, Corinth, and others in the East . . . he adds meaning and depth to the power of his story. Steeped in the history and lore of the area in which he lives and knows well, Urdahl has given us an absorbing story about human tragedy, heroism, and survival by ordinary folks on a grand scale during a clash of cultures whose legacy still lives with us today."  –Russell Fridley, Past executive director of the Minnesota Historical Society"
Softcover, little to no wear, signed by author, binding tight, pages bright, a very nice copy!