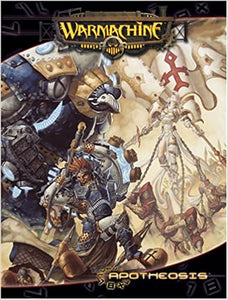 Warmachine: Apotheosis by Privateer Press
"War rages across the Iron Kingdoms like a tornado hurling the forces of western Immoren into intense conflict. The destiny of humankind lies in the outcome of this clash of unstoppable forces.
WARMACHINE: Apotheosis arms players with the mightiest warcasters and warjacks ever to take the field of war. Discover a bounty of new strategies and tactics to unlock incredible combinations that will make you victorious in your battles for survival, revenge, and domination!
Read the exciting story of how these great armies converge on the Thornwood to clash in the ultimate battle.
Expand your tactical combinations with 8 all new warcasters, 8 returning epic warcasters, and 4 new unstoppable warjacks.
Supercharge your games with new rules for bonded warjacks, experienced warcasters, and new bone-crunching power attacks.
Play out your own battle for the Thornwood with the Theater of War campaign system."
Softcover, minor wear, moisture damage to last pages with discoloration and tears, binding tight, pages bright, a nice copy