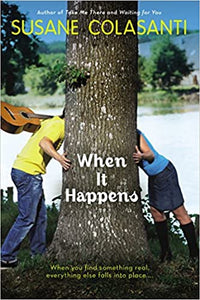 When it Happens by Susane Colasanti
"At the start of senior year, Sara wants two things: to get into her first-choice college and to find true love. Tobey also wants two things: to win Battle of the Bands and to make Sara fall in love with him. Dave, the boy Sara was hoping would realize she exists, moves in on Sara first. But Tobey is impossible for Sara to ignore. He gets the little things that matter to her and, most importantly, he feels like a soul mate. Can a slacker rock star wannabe win the heart of a pretty class brain like Sara?"
Softcover, minor wear, scuffing to cover, binding tight, pages bright, a nice copy!