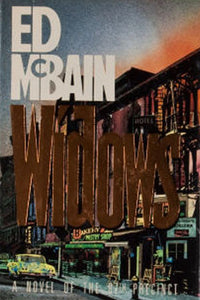 Widows by Ed McBain
"Another summer. Another heat wave. And another murder so brutal it's hard to fathom the cruelty that stalks the city's streets. When Susan Brauer was stabbed thirty-two times with a paring knife, Detectives Carella and Brown find clues that connect her to the senior partner of a prestigious law firm. That connection doesn't happen, however, until he is dead on a city sidewalk.
An unrelated murder—that of Carella's own father—has turned the detective's world upside down, and the 45th Precinct's investigation is hitting dead ends faster than a bullet turns a wife into a widow. But the lawyer has left behind a wife, an ex-wife, two grown daughters, and plenty of hidden animosities to fill a detective's notebook. For the men who patrol the city, their personal lives take a back seat no matter how many surprises—and sorrows—they find along the way.

A probing, emotionally rich addition to bestselling author Ed McBain's 87th Precinct series, Widows peels back the layers of protagonist Steve Carella's past to deliver a procedural of extraordinary depth and resonance."
Hardcover in dust jacket, light wear from use, binding tight, pages bright, a very nice copy!