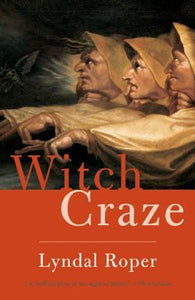 Witch Craze by Lyndal Roper
"From the gruesome ogress in Hansel and Gretel to the hags at the sabbath in Faust, the witch has been a powerful figure of the Western imagination. In the sixteenth and seventeenth centuries thousands of women confessed to being witches—of making pacts with the Devil, causing babies to sicken, and killing animals and crops—and were put to death. This book is a gripping account of the pursuit, interrogation, torture, and burning of witches during this period and beyond.

Drawing on hundreds of original trial transcripts and other rare sources in four areas of Southern Germany, where most of the witches were executed, Lyndal Roper paints a vivid picture of their lives, families, and tribulations. She also explores the psychology of witch-hunting, explaining why it was mostly older women that were the victims of witch crazes, why they confessed to crimes, and how the depiction of witches in art and literature has influenced the characterization of elderly women in our own culture."
Softcover, minor wear, light highlighting throughout, binding tight, pages bright, a very nice copy!