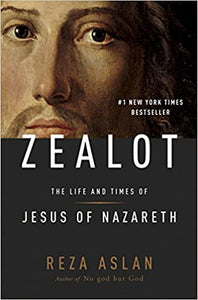 Zealot: The Life and Times of Jesus of Nazareth by Reza Aslan
"Two thousand years ago, an itinerant Jewish preacher walked across the Galilee, gathering followers to establish what he called the "Kingdom of God." The revolutionary movement he launched was so threatening to the established order that he was executed as a state criminal. Within decades after his death, his followers would call him God.
 
Sifting through centuries of mythmaking, Reza Aslan sheds new light on one of history's most enigmatic figures by examining Jesus through the lens of the tumultuous era in which he lived. Balancing the Jesus of the Gospels against the historical sources, Aslan describes a man full of conviction and passion, yet rife with contradiction. He explores the reasons the early Christian church preferred to promulgate an image of Jesus as a peaceful spiritual teacher rather than a politically conscious revolutionary. And he grapples with the riddle of how Jesus understood himself, the mystery that is at the heart of all subsequent claims about his divinity.
 
Zealot yields a fresh perspective on one of the greatest stories ever told even as it affirms the radical and transformative nature of Jesus' life and mission."

Hardcover in dust jacket, minor wear, binding tight, pages bright, a very nice copy!